We've made it to the final post in the Organizing Basics Series.  I'll say it again at the end of the post…if you liked this series and find what you read here on Get Simplifized! helpful, please leave a comment below. Honestly, I'd LOVE to hear from YOU!  Well, we've gone through the four steps of the organizing process: NEEDS, ASSESS, PURGE AND ORGANIZE and as promised, I'm going to wrap up the series by organizing one room using these four steps….the kitchen.  In practically every home I've been in, the kitchen is hands-down the "hub" of the house and the center of activity where everyone naturally gravitates to. So based on that, and your input, I thought it would be a great choice.
Now keep in mind, every kitchen and every organizational dilemma is different.  There is no "one size fits all" when it comes to organizing but like I've said in previous posts, there are some universal organizing concepts and ideas that you can apply to practically any situation.  So, as I go through the steps I'll reiterate those concepts again to you. Now with that in mind, let's get started and go through each of the steps in the NAPO organizing cycle.
NEEDS
The first step in organizing your kitchen is to determine your needs for the space.  Everyone's needs are different but it's probably safe to say that most folks need a kitchen where they can easily  and efficiently prepare, make and clean up meals without wasting time, energy, and money.  Here are a few of the most common reasons folks want and need to get organized:
"I need to stop wasting money. I often end up buying duplicate food items that I already had but didn't know it because it was lost somewhere on a shelf."
"I need to stop wasting time looking for food and utensils so that I can quickly make a meal and spend more time  with my family or doing other important things."
"I really need help with cleaning up the kitchen but my kids are having a hard time figuring out what goes where."
"I want to have more family meals at the dinner table but because the kitchen and table are such a mess we often end up ordering out and just eating in front of the television."
"I want a kitchen where I can entertain family and friends instead of avoiding it because I'm embarrassed about my kitchen being a mess or how much of a chore it will be because it's so disorganized."
For me personally, I value making healthy, homemade meals for my family but I don't like wasting a lot of time doing it. I would get so frustrated when after a long day at work I couldn't find what I needed, or discovered I had ran out of a particular food item and would then waste time running to the grocery store to get it.  Before I knew it, prepping and making dinner ended up taking two or three hours when it should have taken only one. So for me, I needed to organize my kitchen (and myself) so that dinner time wasn't a waste of time or a major chore!
ASSESS
Once you've determined your needs in the kitchen, you can better assess the space.  If you'll recall from the post I wrote on assessing your space, there are several questions you need to ask yourself (I'll use my kitchen as an example of how I tackled each one of these questions):
What's working in the kitchen? The layout of my kitchen was great with plenty of space for a table and chairs. I also liked that I had a decent amount of space in the cabinets and drawers plus a huge pantry with shelves. Additionally, I liked the location of my coffee maker because it was close to the sink and had an overhead cabinet for storing mugs and supplies.
What's not working in the kitchen? There was a limited amount of counter space making it difficult to keep my heavy, yet essential, everyday-use appliances out (stand mixer, food processor and toaster oven). The bottom cabinets had storage but they were deep, making it difficult to get things in and out of. The pantry shelves were made of wire racks which drove me crazy because items would slip through or tip over on them.  The corner counter where you entered the kitchen became the "catch all" counter and was always cluttered with phones, wallets, keys and mail. Also, the kitchen bar that separated the kitchen from the dining room/living room was too high and too close to the dining table making it useless as an eating bar.
What are my habits of working and using the kitchen? Although I didn't like the catch-all space it was a natural spot to drop our things as we came into the house.  We also realized we preferred working on our laptops in the family room rather than the the small office desk space in the corner of the kitchen.  Another habit was that the kids wanted a glass of milk first thing in the morning and my husband and I wanted our coffee so making sure those "zones" were organized was important.  And finally, whenever we entertained, everyone wanted to hover in the kitchen because of the openness (and closeness to the food).
What are the essential items I need and want in the kitchen? Other than the obvious basic appliances and utensils, I determine my essentials to be the coffee maker, stand mixer, food processor, toaster oven, trash can, recycle bin and kitchen table and chairs.
What's in the kitchen that shouldn't be? I honestly didn't have anything in the space that didn't belong except for our personal files (odd..I know but we had no other space for them but the pantry).
What are my limitations and possible options? Limited counter space and electrical outlet locations dictated where certain items could go (especially the catch-all counter for the cell phones and chargers).  One wall was taken up by windows and part of the ceiling was at a slant limiting us from adding shelves on that wall.  There was however, open space above the shelves in the pantry, the office desk nook, and the main wall of cabinets.  Also, two columns leading into the kitchen were hollow and prime candidates for installing cubbies.
What zones do I envision for the space? I do a lot of baking and cooking….and morning coffee drinking!  My husband and I also like to entertain.  So, I wanted a baking zone, cooking zone, coffee and beverage zone, adult beverage center zone (kegerator, wine fridge, etc.), an eating zone, a food storage zone, a cleaning zone, and a mail/file sorting zone.
PURGE
The process of purging helps you realize how much stuff you have, what you don't have, what you need and what you don't need. I'm going to jump right in on how and what to purge in your kitchen.
NOTE: You may want to refer back to my post on purging for additional information on how to prep for a purging session and how to tackle sentimental items.
Set up your purging piles: KEEP, TRASH, RECYCLE, DONATE and DON'T KNOW. You can use plastic bags, laundry baskets or boxes for each pile.
Start with flat surfaces first to free up your tables and counter space then tackle the cabinets and drawers.
Move from one side of the room to the other instead of bouncing from one drawer then another across the room. You'll have a better idea of how much you've gotten done as you go.
Start tossing! Here is a list of items you should consider getting rid of:
Broken pots and pans.
Broken or chipped dishes
Duplicate utensils and appliances
Items that you find unattractive or out of style
Excessive glassware and dinnerware
Broken appliances
Never, or seldom, used appliances
Expired food items
Here's what I got rid of when I purged my kitchen: food dehydrator, extra coffee maker, miscellaneous mugs, plates and silverware, worn out pots and pans, stained and cracked plastic storage containers, containers without matching lids, lids without containers, several wooden spoons, several duplicate spatulas, rice cooker, hand mixer, electric hand whisk, several different bottle openers, electric can opener, worn out pot holders, expired spices and spices I never used, extra set of measuring cups and spoons, bent and rusted cookie sheets, several wine bottle openers, old set of cutting knives with wooden storage block, flower vases, and several cookbooks that I never or rarely used.
FYI:  Did you know, some of the least used items are: juicers, bread makers, fondu sets, souffle dishes, fancy pots and pans, and unique utensils?  They just take up space and are rarely if ever used.  You may consider getting rid of these items if that's the case for you too.
ORGANIZE
We've reached the last step! This is where your vision of your space will turn into reality.  You can refer back to my post on  Organizing for more information on this step.  Let's go!
First, empty the space. Most of your items should be cleared out from the purging step, but you want to make sure you start with a clean slate whether you're organizing a drawer, shelf, cupboard, or an entire pantry.
Now that you've purged and cleared the space you want to sort "like items with like items." Here are some examples of like items in the kitchen:
Silverware
Coffee and tea mugs and supplies
Drinking glasses
Dinnerware
Special occasion dishes like china and wine glasses
Glass mixing bowls and baking dishes
Baking utensils: spatulas, measuring cups, measuring spoons, whisks, etc.
Pots and pans
Cooking utensils
Dry goods
Kitchen cleaning supplies
Oven mitts and potholders
Spices, oils and vinegars
Knives and other food prep items
Cookbooks
Cutting boards
Cookie sheets, cake pans and muffin pans
Kids's dishes
Appliances: blenders, mixers, food processors, etc.
Establish zones. At a minimum you should have the following zones:
Cooking Zone

near the stove with drawers and cupboards dedicated to cooking utensils, pots and pans, pot holders, bakeware, cookbooks, spices, oils, and small appliances.

Baking Zone

near or combined with the Cooking Zone with drawers and cupboards to store measuring cups and spoons, baking dishes, baking ingredients, electric mixers and other utensils.

Food Storage Zone

near the refrigerator and pantry/cupboard with refrigerated foods and dry goods (rice, cereals, canned goods, etc.) as well as foils, plastic wrap, plastic bags and other food storage containers.

Dishware/Dishwashing Zone

near the sink and/or dishwasher with your dinnerware (plates, bowls), silverware, drinking glasses, detergents, soaps, washcloths, hand towels, sponges and dish drying racks.

Food Prep Zone

usually near the sink and trash can with knives, cutting boards, peelers, shredders, colanders, etc.

Eating/Food Serving Zone

at a kitchen table, dining room table or breakfast bar where you may consider having napkins, salt and pepper shakers, cream and sugar bowls, place mats and trivets available.
Start putting things away making sure to assign a home for everything. Keep these tips in mind:
Keep frequently used items for each zone within arms reach.  For example: utensils and spices within reach of the stove as you're cooking; coffee mugs, cream and sugar next to the coffee pot; dishes, silverware, and glasses near each other for serving meals; detergents, soap and washcloths near the sink as your washing dishes; measuring cups, spoons and mixing bowls near baking ingredients.
Use upper cabinets for lightweight and fragile items such as glassware and stemware.
Use lower cabinets for heavier items such as blenders, food processors and heavy dishes.
Use high shelves or the backs of cabinets for less frequently used items.
Use tall shelves for oversized items like cereal boxes, stemware, and tall bottles.
Use drawers for spices, silverware, utensils dish towels and wraps.
Deep drawers can be used for bulky pans, appliances or large bowls and serving dishes.
Stack different sized plates and bowls separately so you don't have to lift an entire stack to get to another.
Stack pots and pans inside one another to save on space and put all the lids in a separate container so they stay together.
If you have small children you may consider installing safety latches on doors and drawers and moving cleaning supplies to a place that's out of their reach.
Maximize your storage space:
Use square containers on shelves to store like items together.
Install over-the door racks to maximize vertical space in your pantry and cupboards.
Use a double stack turntable in the refrigerator or cupboards to store medicines, condiments and spices.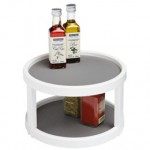 Use shelf racks to better utilize the empty space.
Use drawer dividers to keep silverware and utensils organized.
Use a over-the-door clear shoe organizer to store small items like season packs, snacks,  and spices.
Use hooks under a shelf to hang coffee mugs instead of stacking them on top of one another.
Mount a magnetic strip on the wall to hang your kitchen knives or spices.
Use door-mount spice racks to free up space in the cabinet and on the counters.
Install a pot lid and cookie sheet/cutting board holder on the inside of cabinets.
Install slide out shelves in cabinets to utilize the wasted space and make it easier to see items sitting in the back.
Use expandable shelves to better see spices or canned goods.
Consider adding a shelves over windows or above cabinets to display items instead of taking up space on the counters.
Hang a pot rack on the wall or from the ceiling freeing up cabinet space.
Label everything you can!!!
Label shelves in the pantry.
Label shelves in the cupboards.
Label kitchen shelves.
Label cereal containers.
Label baskets.
Label jars of spices and baking goods.
Label inside of drawers and containers.
Label whatever you can to make it easier for you and your household members to learn and remember where everything goes in the kitchen!
Keep up the organization by establishing simple rules and routines:
Keep a shopping list near the pantry and fridge to write down items when you run out of them.
When you bake or cook, try to clean as you go.  Wash dishes during breaks and return ingredients as soon as you're done with them.
Do dishes immediately after meals.  Don't wait until later on or the next day. Incorporating cleanup as part of mealtime will allow you to relax after everything is done.
Load the dishwasher throughout the day and run it every night.  Then unload it first thing in the morning so you can start loading it again.
Maintain your zones.  Don't allow other items to filter into them that don't belong.
Purge your refrigerator weekly on trash night when the garbage goes out.
Have children clean up after themselves by putting their dishes in the sink or dishwasher.
Immediately put groceries away when you come home from shopping.
Establish a nightly routine of putting things away, prepping the coffee maker and wiping down the sink and counters.
Whew. That was quite the finale!  I know it's a lot of information but you can always refer back to this post if and when you organize your kitchen. I sincerely hope this series was beneficial to you. If and when you decide to take on an organizing project of your own, I encourage to refer back to this series and follow the 4 basic steps of organizing to help make your small or large project a success.  Thank you so much for sticking with it, and use this series to help "simplifize" your space.  Oh…LET ME KNOW how your next organizing project works out for you!
I told you I'd mention it again…if you liked this series and find what you read here on Get Simplifized! helpful, please leave a comment below. Truly, I'd LOVE to hear from you!  Thanks!