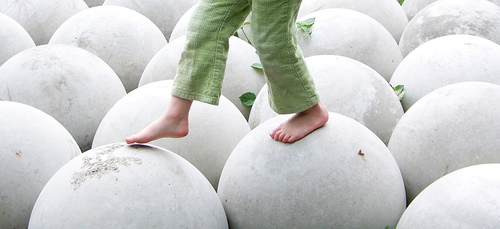 Oh boy!  School is just around the corner.  Are you ready for the household morning rush to get you and your kids out the door and off to school on time? Oh, I know….mornings can be a  bear!  Especially, if you've got children with different personalities like me. I've got a two-year-old who is GO! GO! GO! from the second she wakes…and a twelve-year-old who is NO! NO! NO! from the second he wakes.  It's a bit of a challenge but I've found that the key to a smooth morning…is all in how well you plan the night before.  Yes…you've got to have a solid nightly routine to have a solid morning routine for your kids.
So, let me piggy-back on a post I wrote a couple of weeks ago about how to make back to school a smoother transition and offer you a few tips on how to establish a nightly routine to ease the stress of the morning rush:
- Make sure your children complete their homework and that you review their school folders for any notices and upcoming events that you should be aware of. Personally, I make it a habit to check this right when the kids come home from school or when I get home from work. That way I won't be caught off-guard at nine o'clock at night and can't get to a store for supplies.
"Subscribe for Updates"
Get updates in your inbox "automagically." No spam ever...spam is clutter!
- Lay out your children's clothes to wear for the next day. Include everything from accessories, undergarments and shoes. Have your children do this themselves if they're old enough.

- Lay out your own clothes the night before too. Oh how this saves time…trust me!!! You don't want to find out that half the clothes you wanted to wear are still in the laundry basket waiting to get washed.

- Prepare lunches and store in the refrigerator to keep them fresh. Consider purchasing snacks that are already divided into individual servings like chips, applesauce, string cheese, crackers, carrots, apple slices etc.  If that isn't economical for you, try spending some time on the weekend presorting these items into individual containers.

- Determine what's for breakfast and set the breakfast table the night before. If your kids want cereal or oatmeal, set the bowls and spoons out.  If they want a Pop-Tart or a breakfast bar, set that out as well. Get the utensils out that you'll need to use to make breakfast prep even faster.
- Prepack or have your kids prepack their backpacks and set them near the door or launching pad. Be sure to check the school calendar and weather so that they are prepared with necessary items.

- Prep your coffee maker and set it on an alarm. That way you can just pour yourself a cup of coffee and then tend to the kids or yourself.

- Have your kids shower or bathe at night. This of course cuts down on your morning prep time by quite a bit.  It is also helps your children calm down and prep for bedtime.

- Set your and your children's alarm clock. Consider setting it 15 minutes earlier for your slow-risers.  Consider setting yours about 30 minutes prior to when the kids get up so that you can have some quite time or get dressed peacefully ;o)

- Make a checklist and post it either next to the door or the car keys so you and your kids don't forget anything. List things like lunch boxes, raincoats, backpacks, homework, musical instruments, sporting equipment, etc.
- Be sure to have your kids go to bed at a reasonable hour. Lack of sleep is one to the biggest culprits to poor performance in school.  Set an hour for your kids to go to bed and stick to it!  Try not to get into the habit of allowing your kids to stay up late at night or wake up late in the mornings on the weekends. Sure, and hour or two is okay but not much longer than that.  You don't want to have to reinvent the wheel for sleeping and waking up every week.

School will be here before you know it (if it hasn't already started).  Nip that morning rush stress right in the bud before it even has a chance to stress you and your kids out.  Develop and maintain your own family nightly routine so your mornings will be…a breeze…